How Do We Get There?
While financial planning and investment management have common threads across all, women often have unique challenges to address as they navigate their paths to financial freedom.  Can you overcome those?   Of course you can.  You are FIERCE.
Without desire to use any of these possibilities as excuses, there is still a chance, or even a likelihood, that the below risks play into our journey to financial security/freedom.  It's our choice what we do with them.
Gender Pay Gaps
Lack of Financial Education leading to Lack of Financial Confidence
Longer Life Spans
The Cost of Caregiving and Interrupted Work Lives
Greater Financial Fallout from Divorce
Higher Health Costs
A Tendency to Invest Too Conservatively
At Astoria, a key mission of our work with clients is to allow them to live their lives as fully as they possibly can today and every day, while remaining responsible to their future goals.  With that framework, below are considerations to help women everywhere DO JUST THAT.
Invest in yourself – your human capital is, by orders of magnitude, the greatest determinant of your wealth.
Learn and read everything you can with respect to financial literacy. We have yet to meet anyone that was born knowing this stuff!
Be aware of FOMO (right thing, wrong way), too many shiny objects, chasing returns, growing into your income.
Do your own taxes or at least understand your tax return – This is so impactful in so many ways to help you responsibly manage/minimize your tax liability.
Learn and leverage your company benefits (health insurance, health savings accounts, 401(k)s, 403(b)s, 457 plans, life and disability insurance options, gym memberships, etc).
Your credit score is an asset – Take good care of it!
Protect yourself – Manage risk (Life, Health, Disability, Umbrella, Property and Casualty Insurance policies)
Just START – The earlier the better, but it's NEVER too Late.
Seek out mentors and accountability partners – Then BECOME a mentor and an accountability partner – There is nothing like teaching to bring it home all the while Paying-it-Forward.

Understand the "Miracle of Compounding"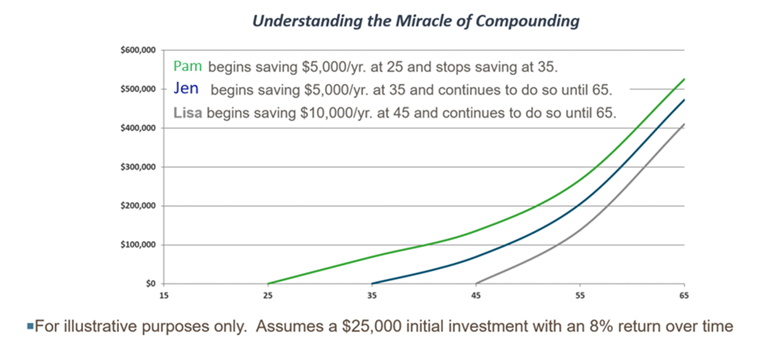 How to Prioritize Savings
Very few of us have the luxury of sufficient cash flow to fill up all of the savings bucket.  So where do you start?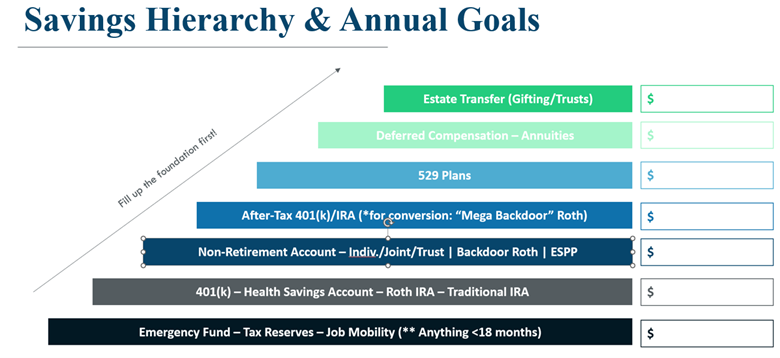 Thank you FIERCE for the opportunity to share this message. 
If you or a loved one is seeking to find a path to their own financial freedom (however you may define that for yourself), please do not hesitate to reach out to see if we might be able to help. We believe strongly in helping people find the right advocate for themselves, so if we are not able to help, we can likely direct you to resources that are.